Virtual Event
Drawing Out Change – #EventCanvas Community Day at #planetIMEX 🌐
October 16, 2020 @ 4:00 pm - 5:30 pm UTC+2
Virtual Event
Free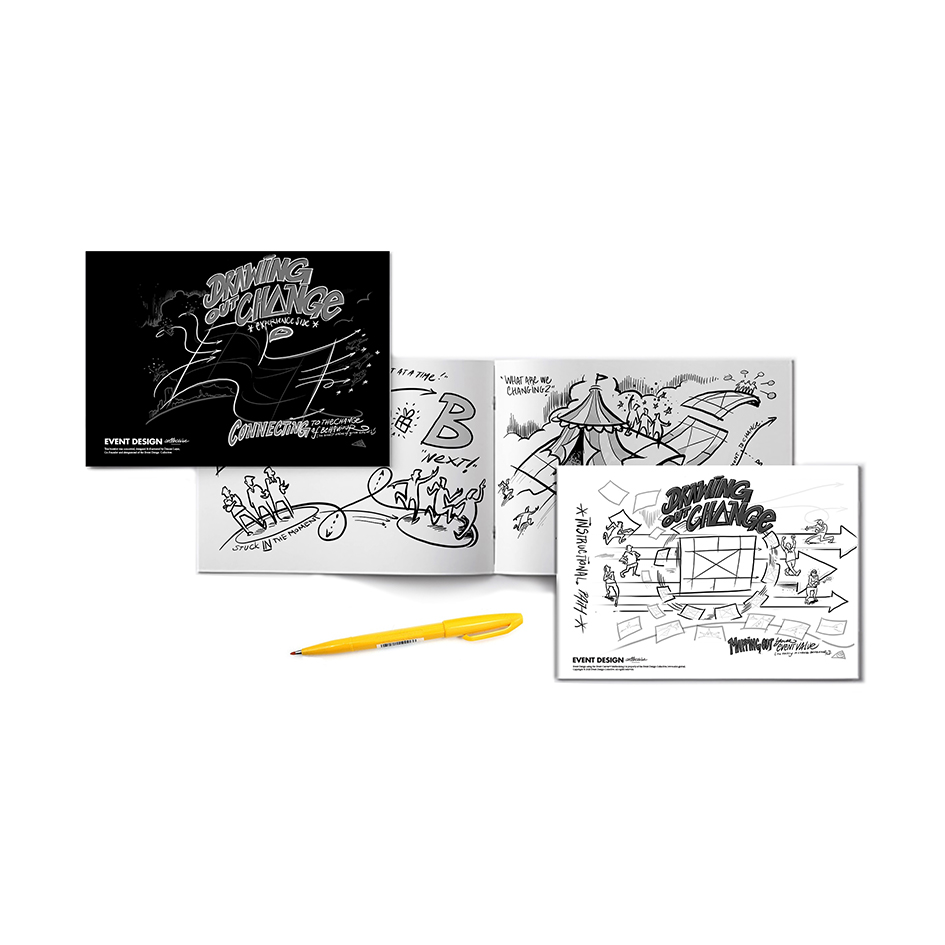 Become part of the largest collaborative effort to gather the global community of #EventCanvas users and trained practitioners of the Event Design using the EventCanvas™ methodology.
Be part of a hands-on global DRAWING OUT CHANGE exercise led by author and visual engagement engineer Dennis Luijer and the team at the Event DesignCollective to celebrate how event design works visually.
#EventCanvas User Community Day invite 16 Oct 2020 icw #PlanetIMEX from Event Design Collective GmbH on Vimeo.
The new book visualizes Event Design using the Event CanvasTM methodology from two perspectives. Through Event design Certificate program or through the Event Design handbook you have learned how events create value and now you are ready for the next step.
Successful events change behavior, but how does that fit into Change in organizations? It is a book that enables you to understand these different perspectives and explain it to others. Experience a reading and collaborative drawing of this booklet from 2 perspectives.
Discover the ultimate tool for those who would like to understand, play, color, draw, explain, and involve.
We will also be involving our Event Design Collective team members from around the globe so we can provide the session the universal visual language of Event Design as well as commentary and breakouts in 9 different languages that include:
English, German, Dutch, French, Spanish, Finnish, Russian, Portuguese & Italian.
Learning outcomes:
Draw out the Experience Journey and Instructional Design
Discover the ultimate tool for those who would like to understand, play, color, draw, explain, and involve
Collaborate in realtime with the #EventCanvas community gathering of EventDesign enthusiasts
We have a limited number of spots available so register now to get your spot.
To make the most out of this event we recommend purchasing the new Drawing Out Change pen + book kit so you can participate and interact with us in this hands-on event. Please note this item needs to be purchased separately and requires shipping.
We promise this will be a gathering like none you've been to before.
We look forward to seeing you there,
Dennis Luijer , Ruud Janssen, Roel Frissen , Angeles Moreno, Gerrit Jessen, Anthony Vade, Marga Groot Zwaaftink, Andrea Vernengo, Vincent Roux, Mauricio Magdaleno, Rachel Ramos, Erno Ovaska, Tanya Spournova at Team Event Design Collective
Tickets are not available as this event has passed.