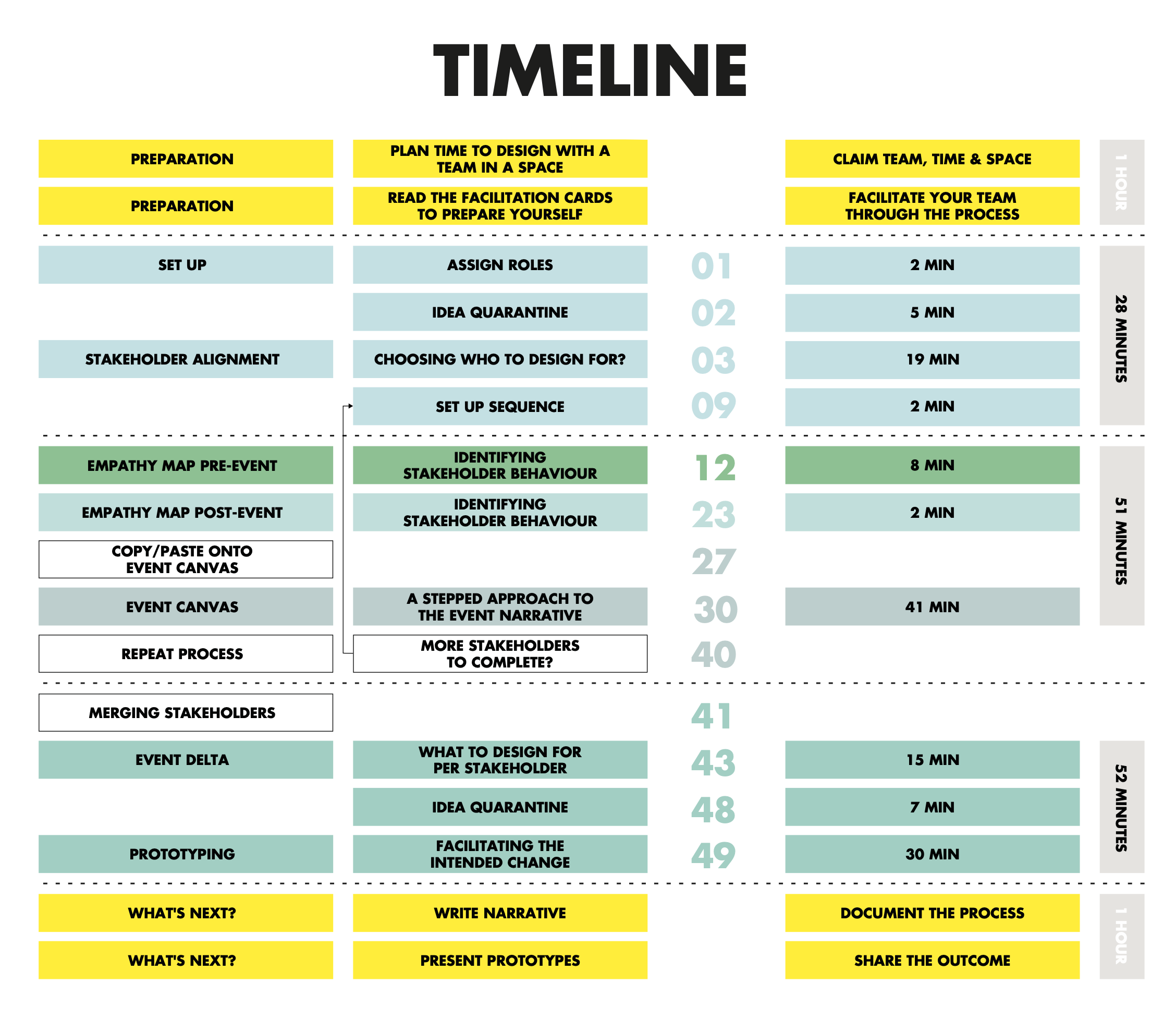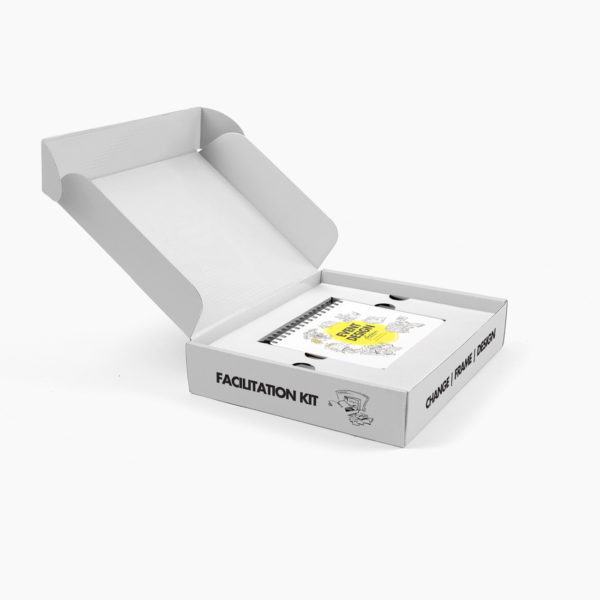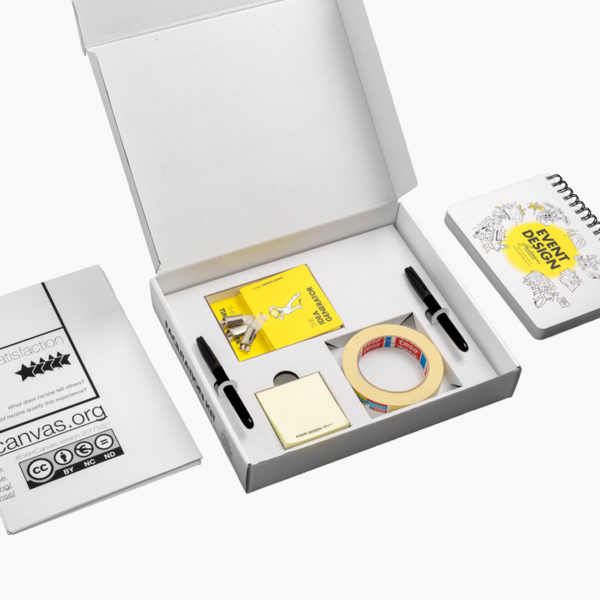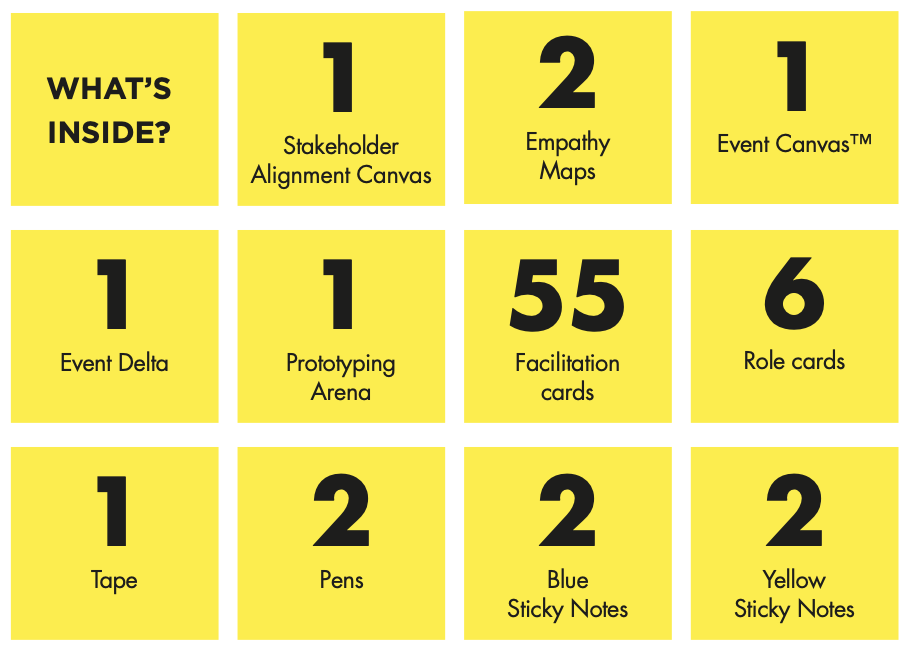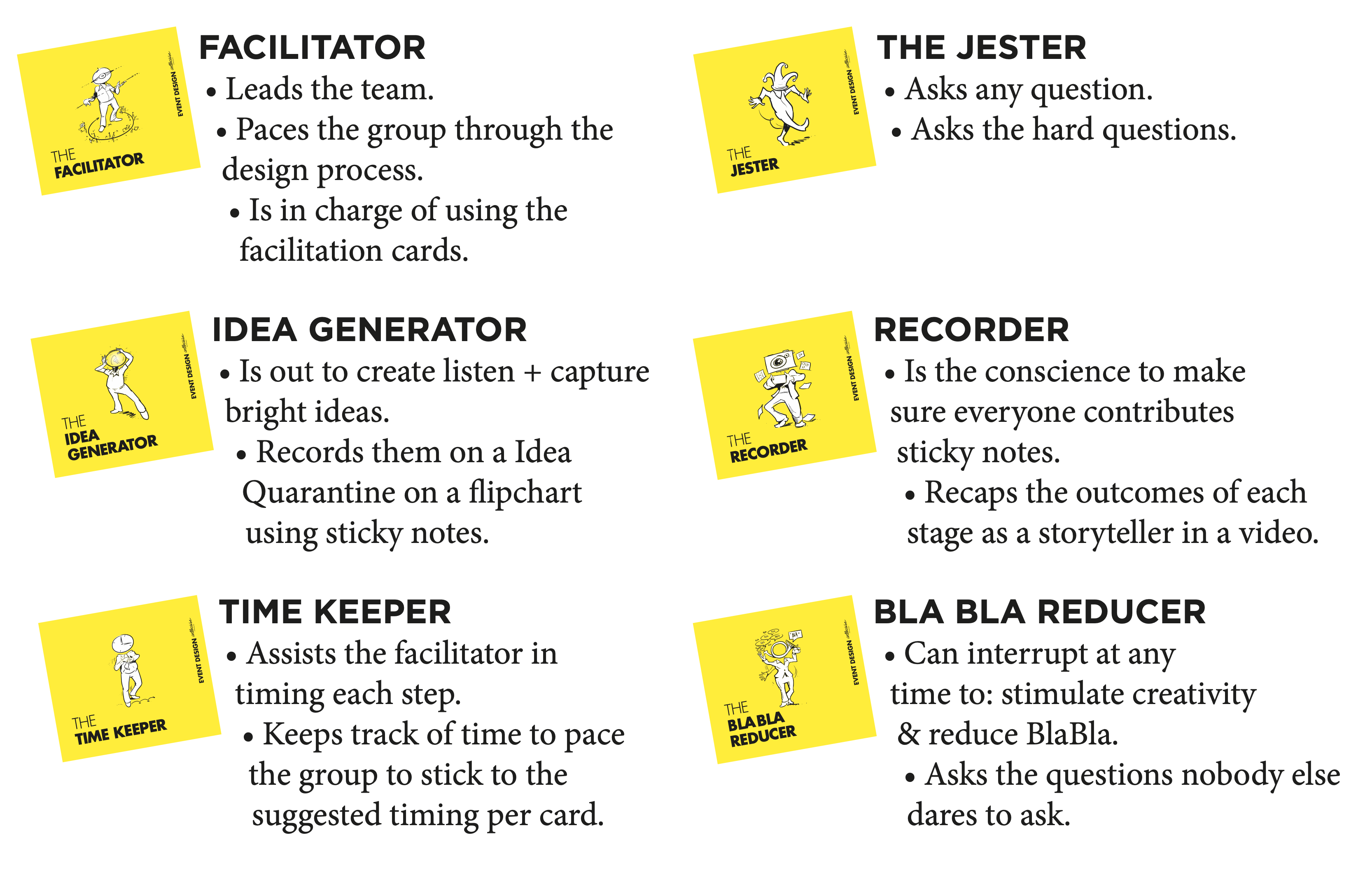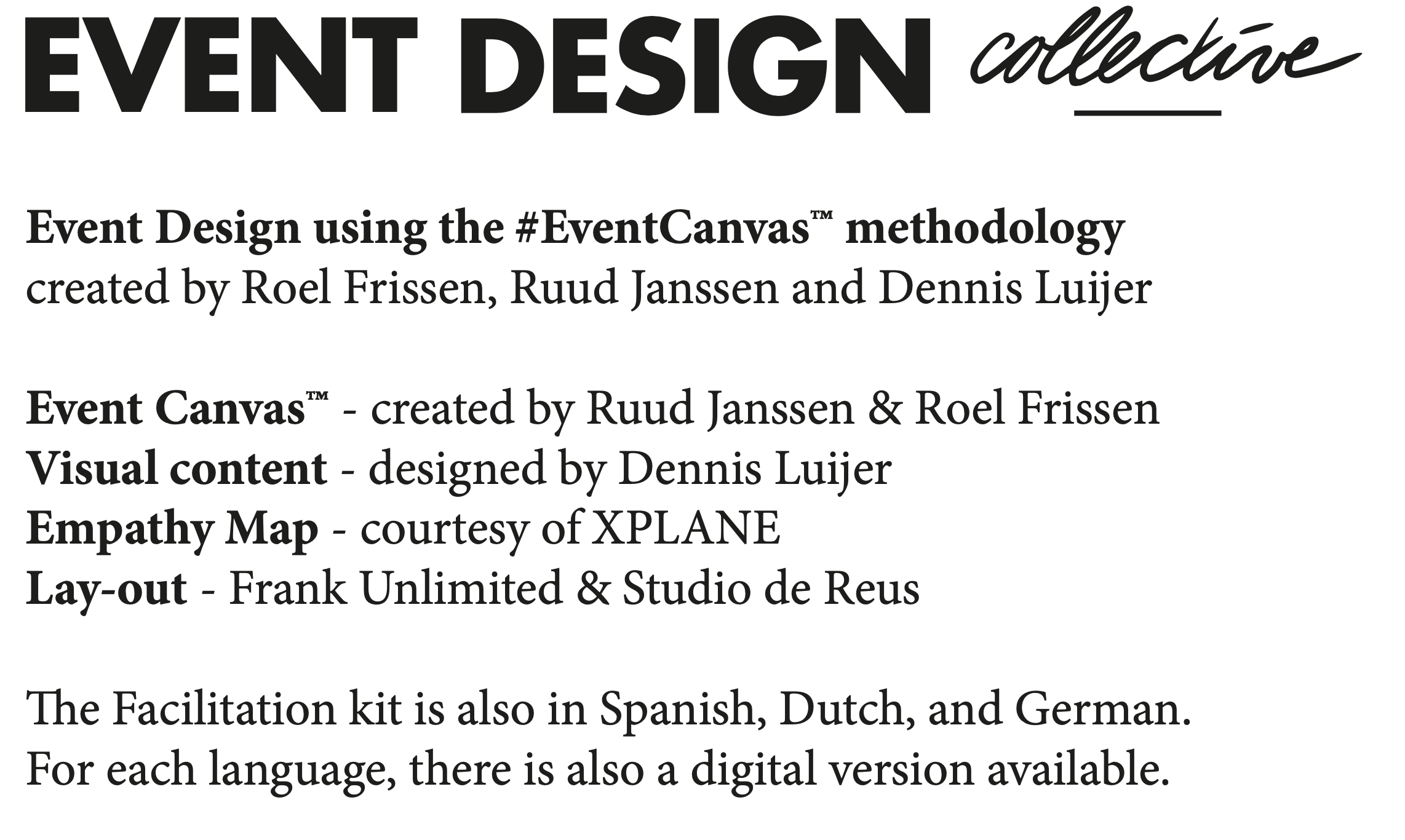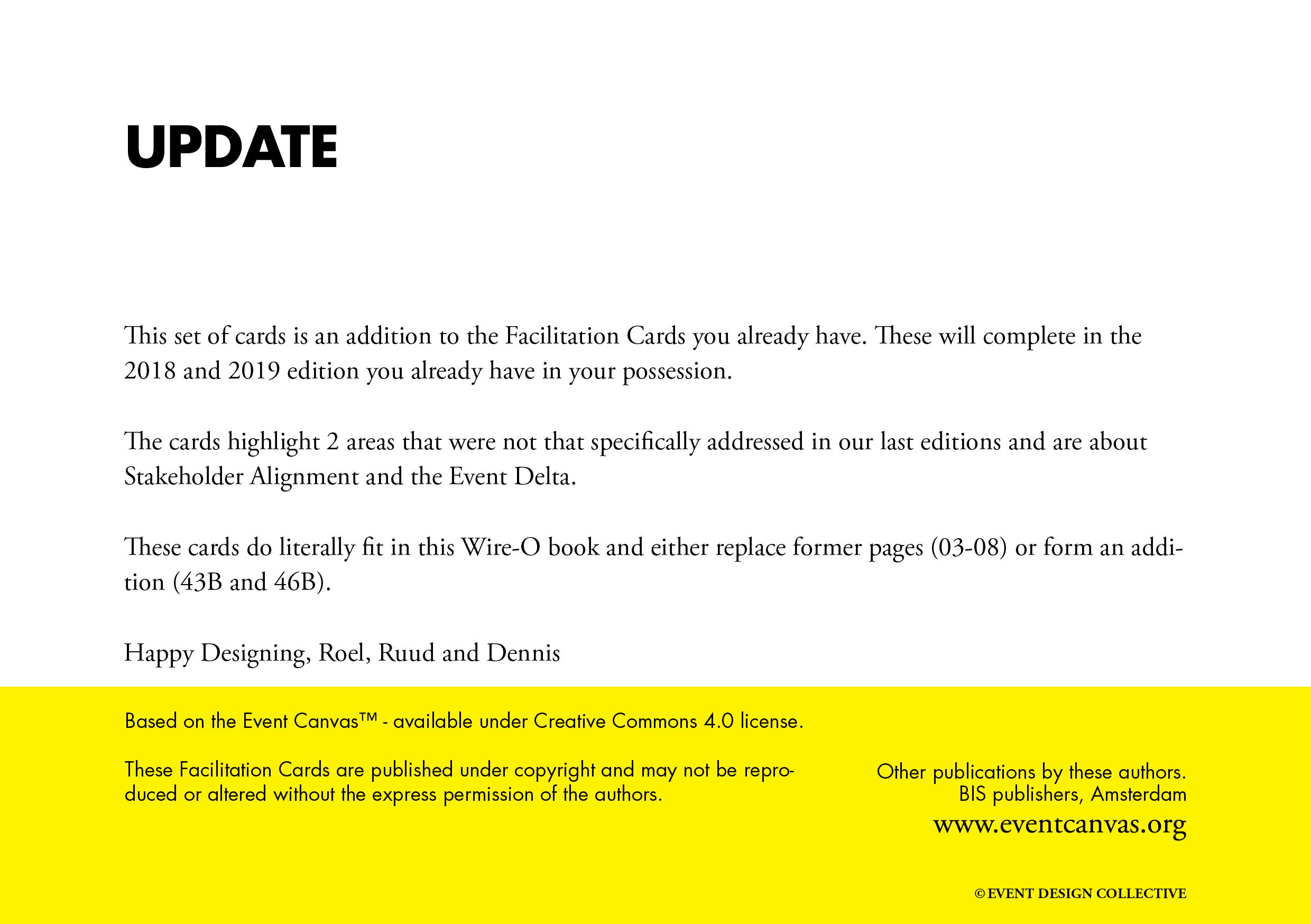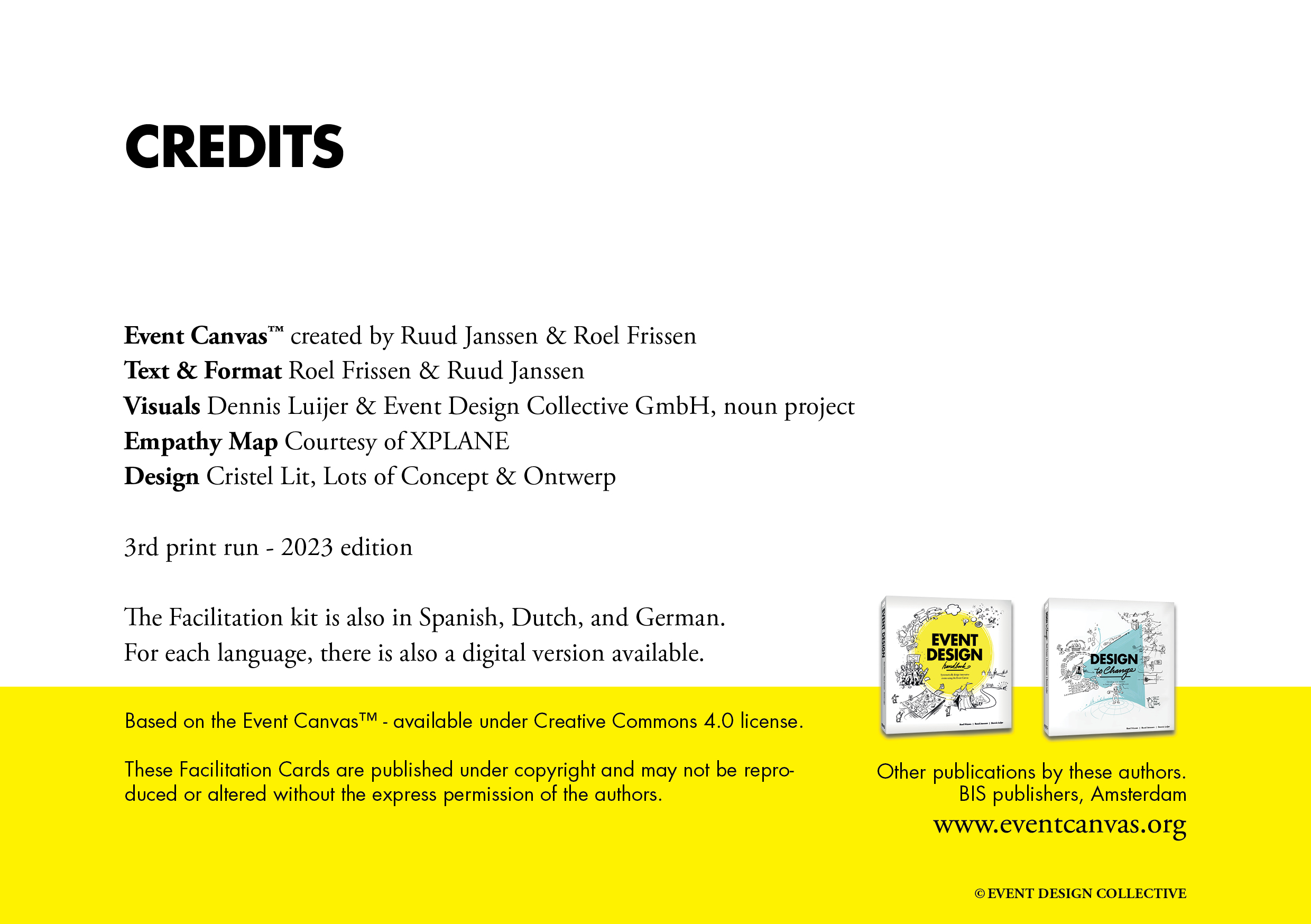 In stock
2023 version English Card Deck update for the EVENT DESIGN FACILITATION KIT ℠
$23,99 Excl. applicable VAT
You can now update your Event Design Facilitation Kit, that you previously purchased, with the latest 2023 version. This new version includes ten additional cards that focus on Stakeholder Alignment, Event Delta, and Prototyping. This also includes a digital version of the Timeline and the cards.

DISCOUNTED WHEN BUNDLED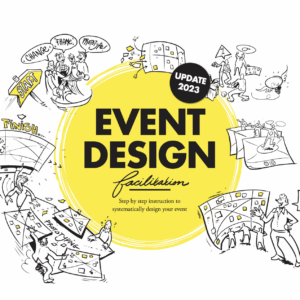 This item: 2023 version English Card Deck update for the EVENT DESIGN FACILITATION KIT ℠
$23,99 Excl. applicable VAT
$23,99 Excl. applicable VAT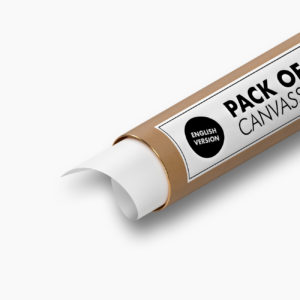 1 ×
English - Pack of all canvasses
This is a set of 5 large PDF files (Stakeholder Alignment Canvas, Empathy Map, Event CanvasTM, Event Delta Canvas and Prototyping Arena).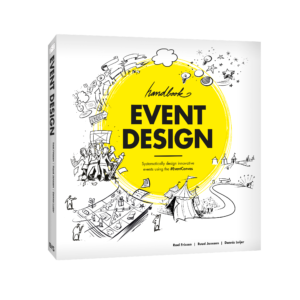 1 ×
EVENT DESIGN HANDBOOK
We are awaiting the 4th print, we will ship Event Design handbooks from 26 June. Thank you for your understanding. The audiobook is available right now from My Courses after your purchase.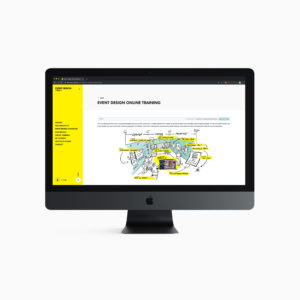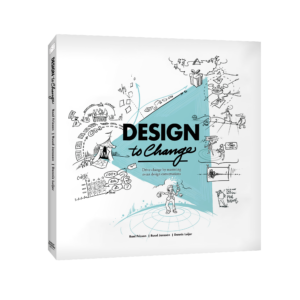 1 ×
Design to Change
DESIGN to CHANGE – Elevating your abilities to look & act beyond the now. Purchase the hard copy book and get instant access to a eBook in pdf format and the audiobook, narration by Anthony Vade.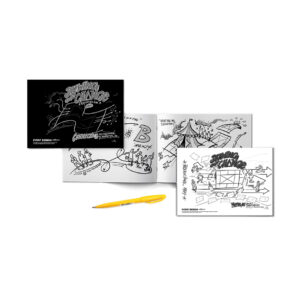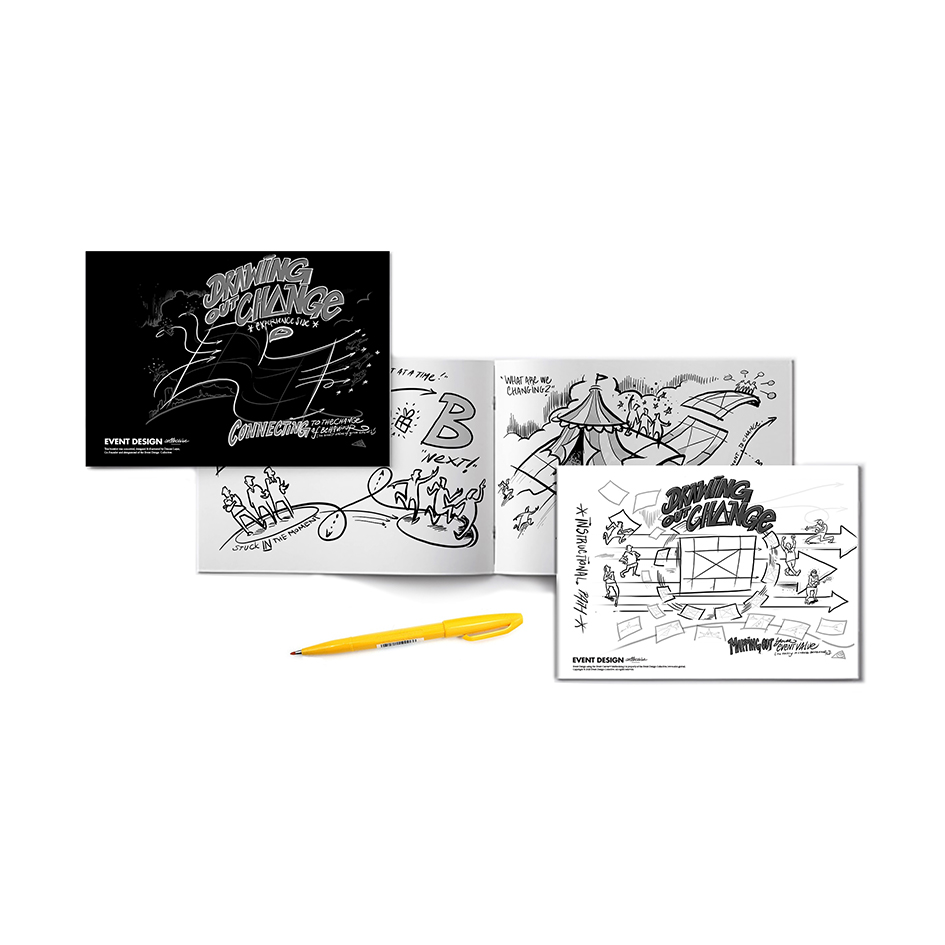 1 ×
Drawing Out Change
This book comes with a yellow Pentel Sign pen and an online course on how to color in the book; two coloring sessions with Dennis Luijer, creator of this book. So after purchase, the book will be shipped to you and you will get access to videos on the Instructional Path and the Experience side. Dennis Luijer will take you through the book from two angles and explains how you can use the yellow Pentel Sign pen (included) to make the book unique and explain Event Design using the Event Canvas methodology to your colleagues, clients, or students.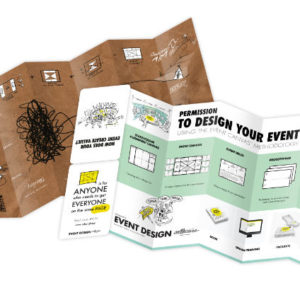 Description

Additional information
This product is specifically for those who purchased an Event Design Facilitation Kit℠ (English version) in the past years. We have updated the kit and for you we have created an update pack. This set of cards is an addition to the Facilitation Cards you already have. These will complete in the 2018 and 2019 editions you already have in your possession.
The cards highlight 2 areas that were not that specifically addressed in our last editions and are about Stakeholder Alignment and the Event Delta.
These cards do literally fit in this Wire-O book and either replace former pages or form an addition.
This update Event Design Facilitation Kit℠ includes:
| | |
| --- | --- |
| Weight | 150 g |
| Dimensions | 16 × 21 × 1 cm |