Revisiting the Level 3 program online will allow EventCanvas users to learn the latest tools developed by the team at the Event Design Collective.
Join us for the Event Design Certificate Level 3 Program. Refresh your knowledge, skills,.and become a proficient "online" facilitator of the Event Design using the #EventCanvas™ Methodology.
Event Design Certificate Program Online is an immersive 3 day training course + 6 month coaching.
Learn how to apply the latest tools in design thinking with the #EventCanvas, facilitate your team through the process and articulate the way your event creates value strategically or just approach events in a different way. Analysing stakes, design and prototype with like minded peers using the #EventCanvas as a visual language for events.
CODES FOR REGISTRATION:
Certified Event Designers Revisiting and New Tools (CED):
EDCL3REVCED    =   1000 EUR scholarship on the standard fees
Level 3 Participants Revisiting and Project Submission (non CED)
EDCL3REVREG    =    1000 EUR scholarship on the standard fees
  Code only applicable on standard course fees of 2750 EUR
REVISIT THE EDC LEVEL 3 COURSE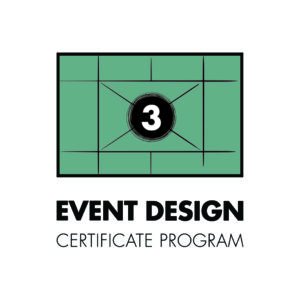 Certified Event Designers (CED)
Revisit the methodology and learn the new tools that have evolved since you first participated.
Meet new and old members of our community and continue to grow and network of change makers.
(First three CED registrants get a special Mastermind prototype addition of our new book Design to Change)
Level 3 Participants (Non CED)
Did you take part in the Level 3 training, but miss the deadline to submit your project? We have heard your request to tick this off your "Jobs to be Done" list. This is your chance to revisit the methodology and complete the program, becoming a Certified Event Designer in 2021.
If you have any questions drop us a line and we'll schedule a 20 mins Zoom call with one of the trainers.